Highlights of Our 2018 Mesquite, NV Trip
We can sum up this year's annual migration this way, IT WAS HOT!  I mean temperature hot as the tables were COLD!  I think we all came back with thinner wallets and lower bank account balances. Having said that, nothing can deter this group from having an incredible time. From the almost birdies to John Chik (Vancouver, BC) dominating the first three days of the horse races by winning first place all three days! If you look closely at the image below, you can see the view the Yoder's have of the desert from his home on the 18th fairway.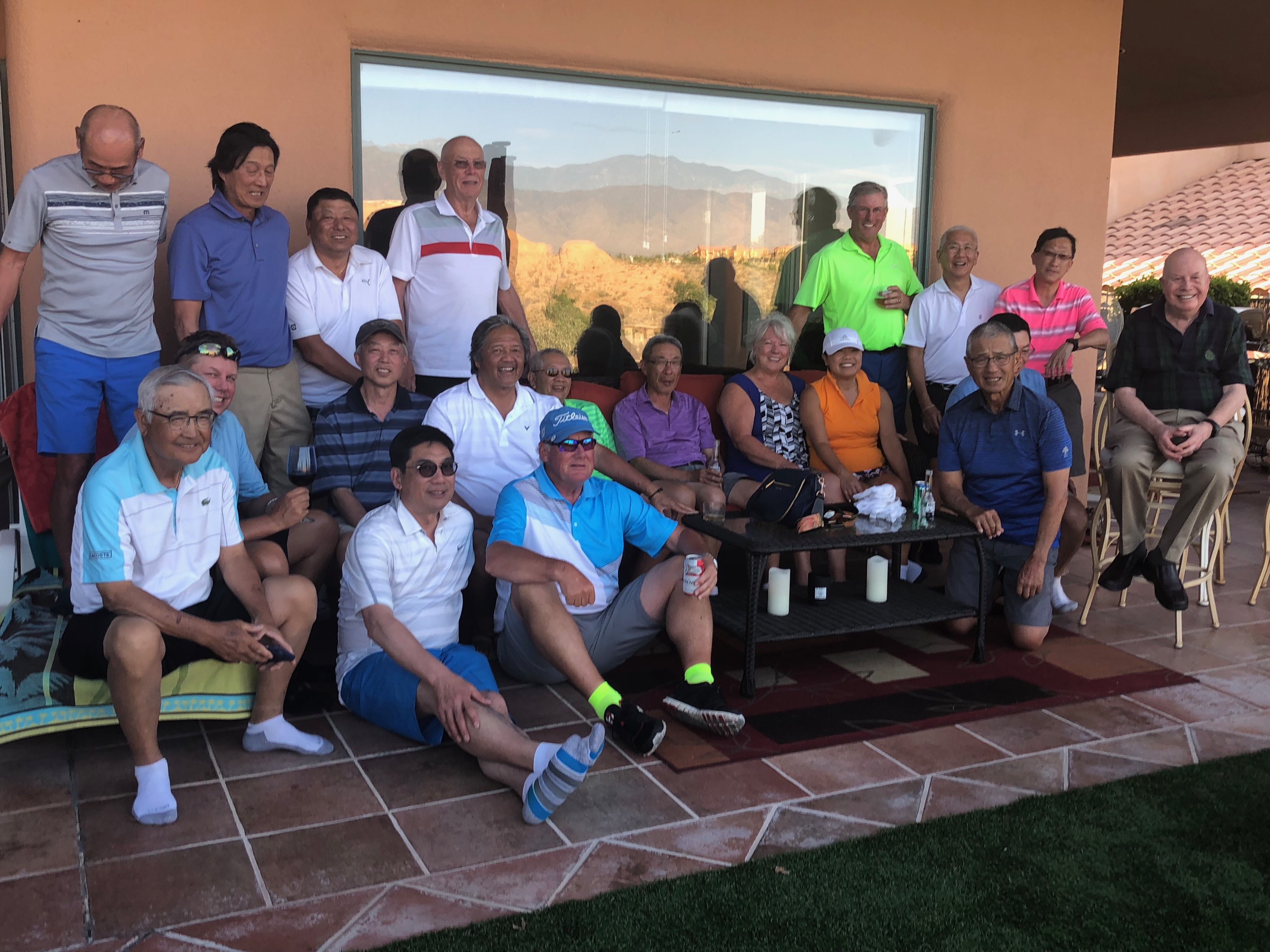 From left to right, sitting: Clem Leung (Oakland), Dave Paynter (Vancouver), Carl Louie, Paul Leong (Vancouver), Al Bajkov (Osoyoos, BC), Lawrence Lee, Erwin Young (Hawaii), Harry Jung (Vancouver), Paula Yoder (Mesquite), Jesse Yee (Vancouver), Chuck Chinn (Oakland), Clark Louie, Gord Gatehouse (aka Casper, Vancouver), Back Row: Ed Sy (Vancouver), Tyler Eng (Oakland), John Chik (Vancouver), Pat McCallam (Vancouver Newbie), Mike Yoder (Host), Jimmy Yee (Vancouver), Garry Wong (Vancouver).
Chuck Chinn (Oakland) and Erwin Young (Hawaii) admiring Chuck's winnings.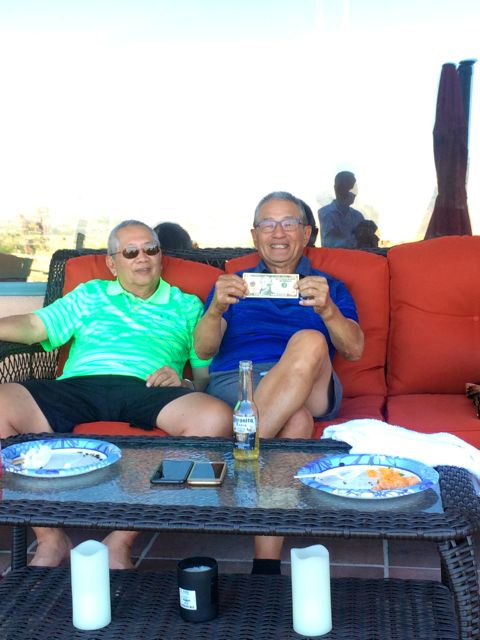 Jesse Yee (Vancouver, BC), as usual, brings home the bacon. Jimmy Yee (hubby) cannot match her until the last day of competition. That's US money this Canadian is waving!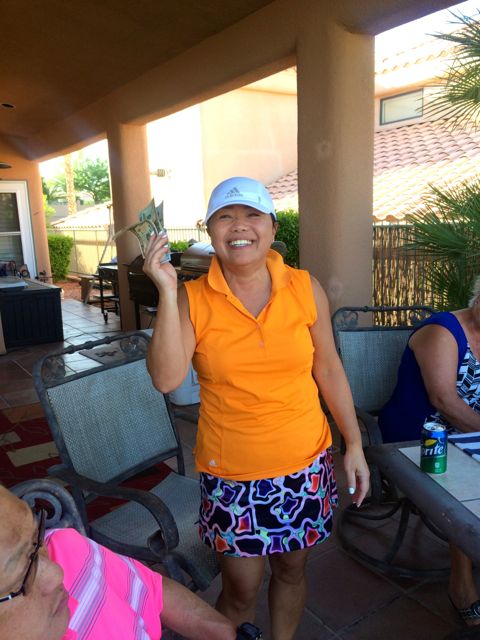 The worse half the Yee's from Vancouver, BC, Jimmy.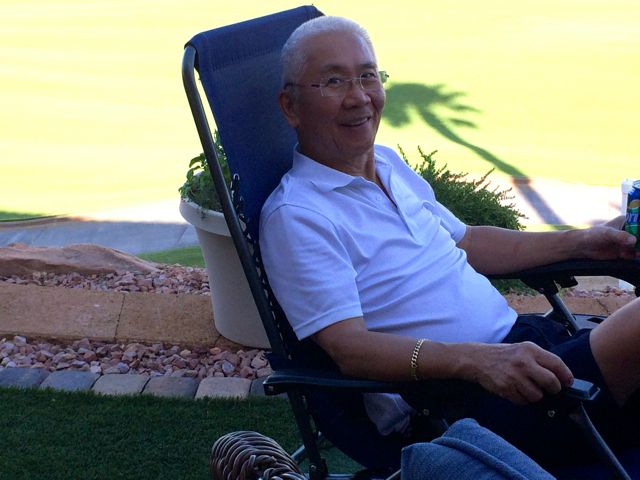 Harry Jung, master of ceremonies. Notice the sweat on his shirt as Carl Louie and I kicked his and John Chik's arsshhhh in our annual grudge match. Erwin Young was not too impressed with his presentation. Thanks for arranging, Harry!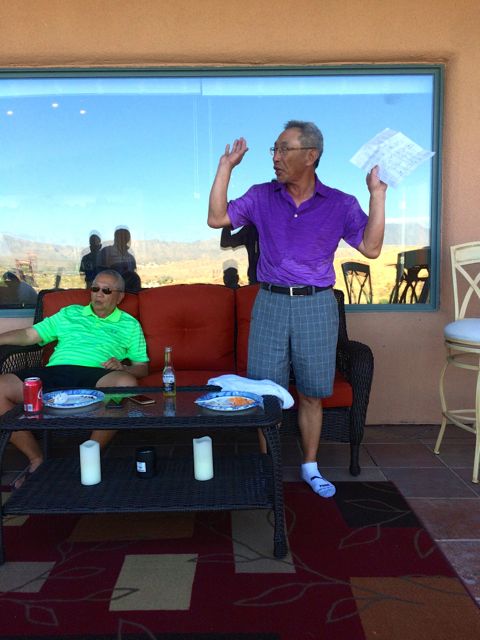 This is the view from Mike Yoder (Mesquite, formerly of  the Portland Club), off the 18th fairway at the Oasis, Palmer Course. Tough life, Mike!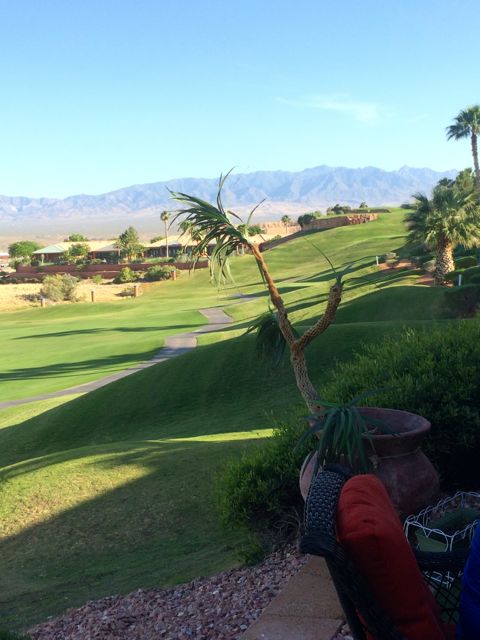 Clark is doing his stand up comic routine. The problem was, nobody laughed 🙂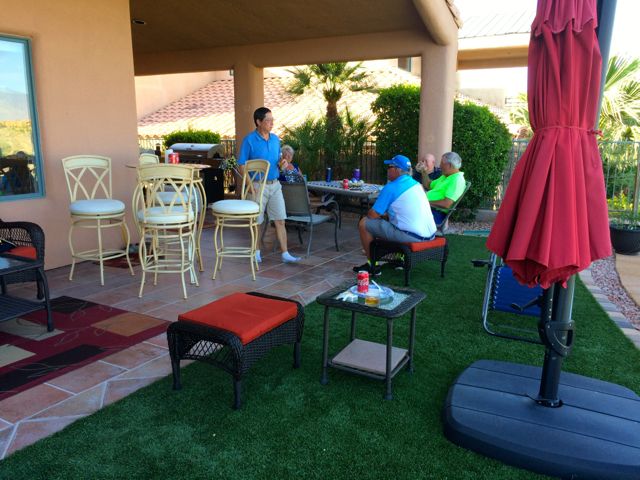 Let the party begin…there was no shortage of food, fine scotch, beer, wine and jokes.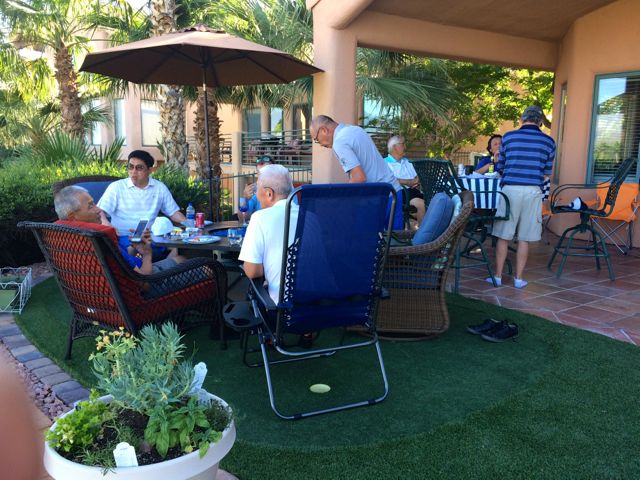 Selfie time with Chiky…in the background is Mike and Paula's son, Jason.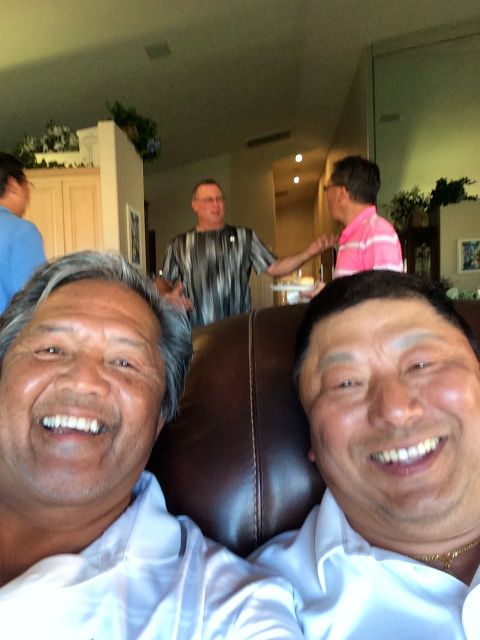 I couldn't help it. Another selfie with Garry Wong…I was three sheets to the wind. Surprise, right?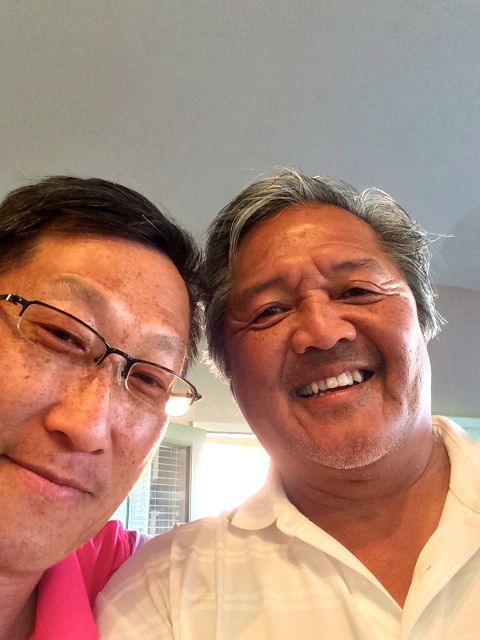 Garry Wong enjoying the fine slow roasted brisket and did you notice the McCallan (Pat, I'm not referring to you)?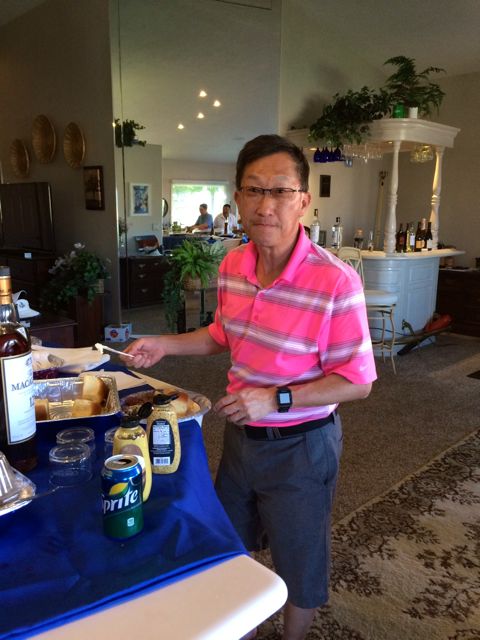 Edward Sy (newbie) enjoying a fine glass of Pinot (from Oregon, of course).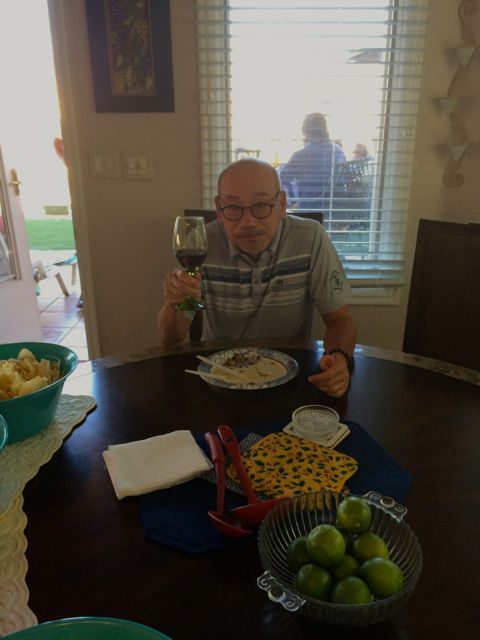 I finally found John Chik. Yep, you guessed it, by the chips. 🙂
Oh my, the women of Mesquite! Women don't normally attend this trip but when you are as pretty as these two fine ladies…we will have to suffer.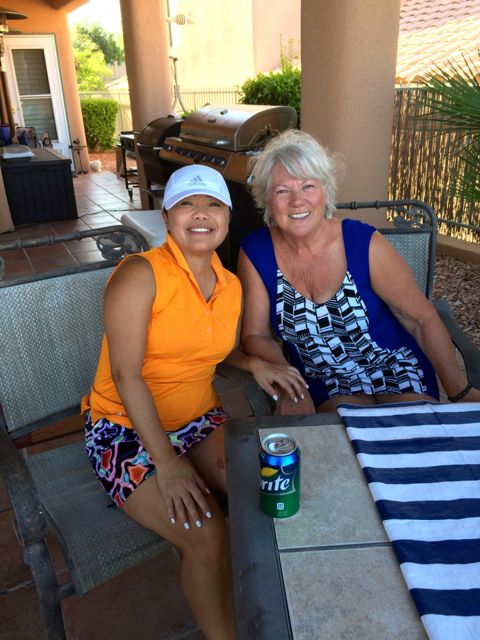 Our gracious host, Mr. Mike Yoder of Vancouver, WA fame. Thanks again Mike and Paula for your incredible hospitality! Gord doesn't give a shit.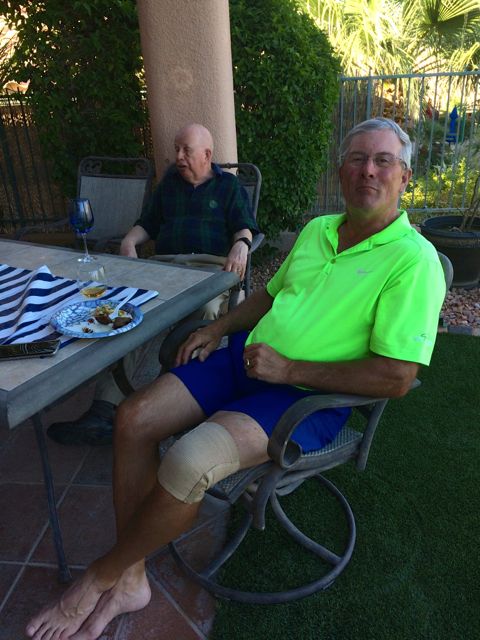 Erwin and Harry enjoying the 19th hole.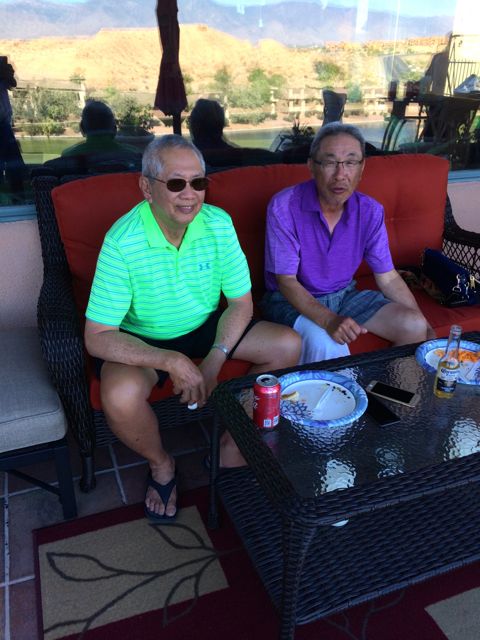 Now you know why Carl can stay so skinny. He eats watermelon, pineapple and pasta salad. Thanks Carl for taking over the Horse Race from Harry, he was getting a little crotchety in his old age. :>)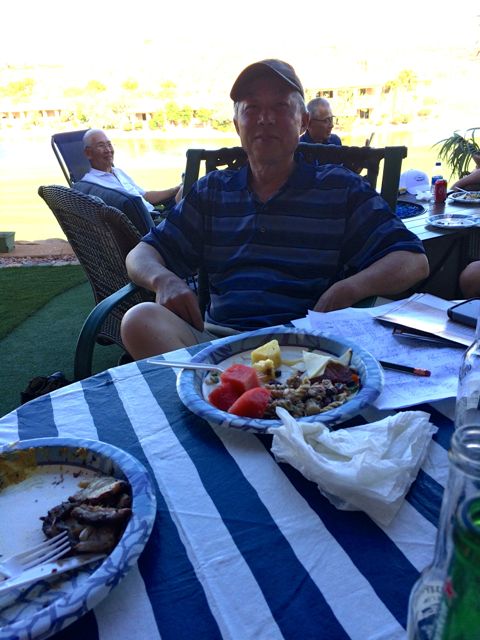 Clem, Tyler and Pat (newbie) giving me the stink eye.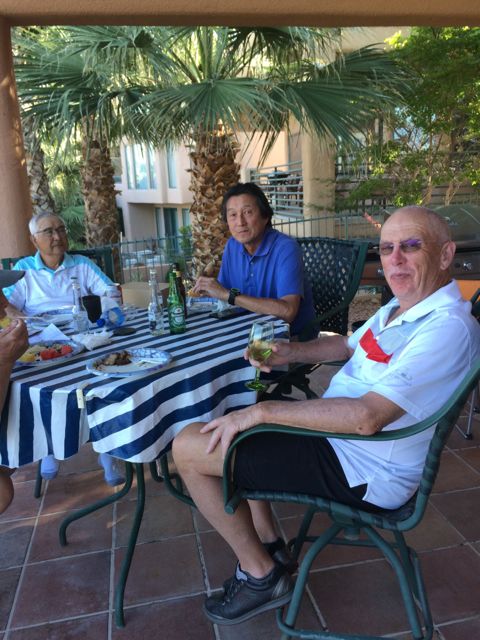 Dave (Senior Club Champion at Marine Drive Golf Club) Paynter with Clark (my arm hurts) Louie laughing and smirking at one of my off colored jokes.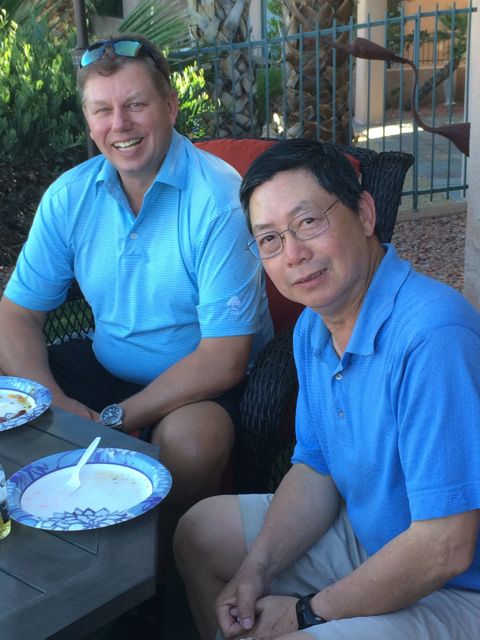 Mr. Paul Leong, what more do I need to say? He just oozes confidence!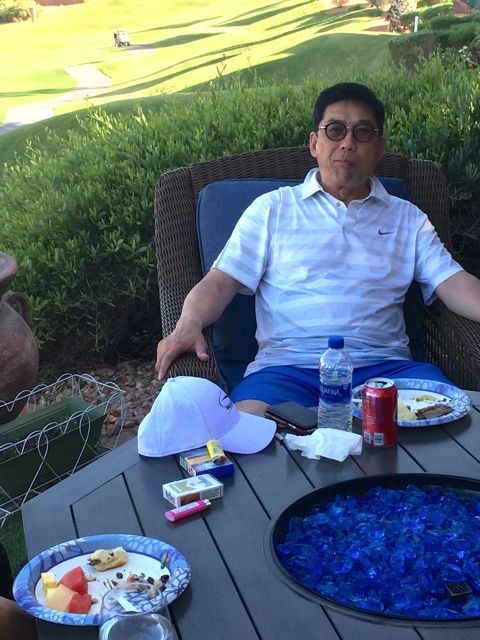 Chuck, erase the pic you just took of me! It's our secret.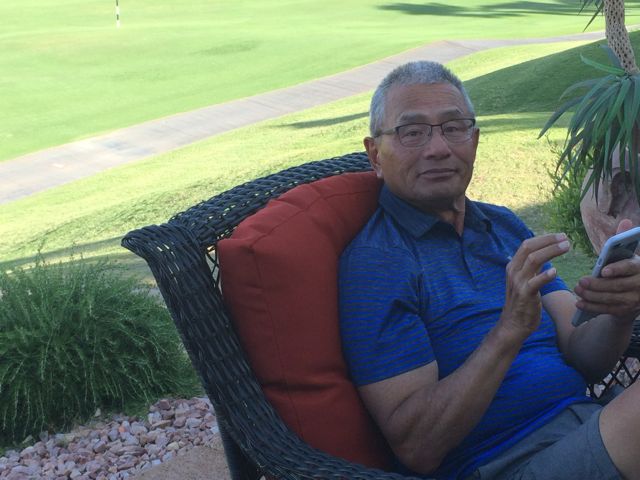 Chuck Chinn and Me forever!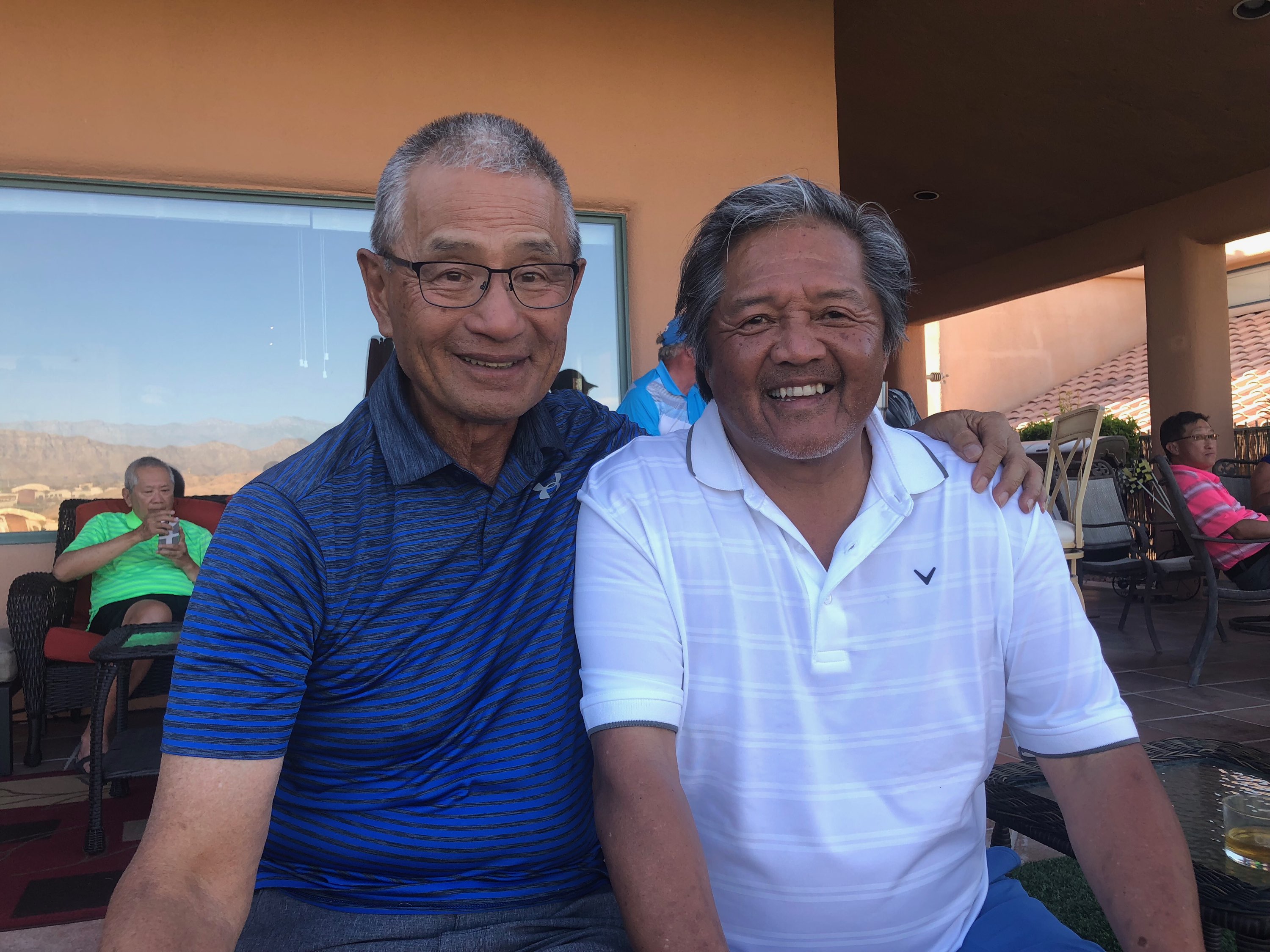 https://pdxcgc.com/wp-content/uploads/2018/05/PCGC-logo-New-Working.png
0
0
Larry Lee
https://pdxcgc.com/wp-content/uploads/2018/05/PCGC-logo-New-Working.png
Larry Lee
2018-05-14 21:57:03
2018-05-25 21:24:44
Mesquite May 2018